I am blessed to have been involved with STUDIO_10 since the beginning. In 2008, I came to Uganda and was introduced to an incredible musician who had a passion for both God and music. Francis quickly became a good friend and I was introduced to the idea of a worship studio… a place to continually raise up new generations of worshipers. A place to that encourages Christ followers in their daily walk and challenges them to go deeper in their relationship with God.
I've been singing my entire life and playing guitar for about 13 years now. I studied music at university and I've been leading worship since I was 16 years old. Being a part of STUDIO_10 just seemed natural to me, but I consider it an honor to have been invited to participate. Being a missionary sometimes means many uncertainties, but I'm thankful to know where my home is in Uganda. Uganda has become a very comfortable second home to me as I travel between the States and Africa.
Our first official worship night was in December of 2008. I remember being nervous to practice with everyone and even feeling a bit reserved because everyone involved in STUDIO_10 is so talented, but as I spent more and more time with everyone I realized my fears were silly. We all quickly became a family of sorts. From then on I always looked forward to spending time with everyone. I'm so blessed by the friendships that have come from being a part of the studio. Two of the ladies, Juliet and Fridah have been so encouraging and I'm very thankful for my friendships with them. It's been so fun getting to know everyone, meeting people' families, and enjoying fun times of fellowship outside of practices too.
I'm very proud of the direction STUDIO_10 is heading in and I'm very proud that the focus has always stayed the same. "Yet a time is coming and has now come when the true worshipers will worship the Father in the Spirit and in truth, for they are the kind of worshipers the Father seeks." John 4:23
We seek to be a group of people who worship the Father in Spirit and truth, the kind of worshipers that God is seeking. My prayer is that this would always be the focus of STUDIO_10 and that it would continue to grow and minister to the masses!
Christina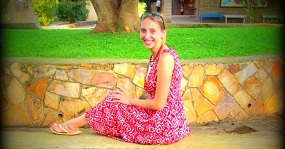 From pounding to the beat of jazz as an unborn fetus, to singing full songs before I was able to speak, it was clear that God has given me a gift of music. I grew up playing piano and singing in a small private choir. I took voice lessons and sang at coffee houses. I have always loved singing, and wanted to find a way to bring more glory to God through it.
In my first few months in Uganda, I met Francis while working at Heritage International School. He introduced me to his idea for a worship studio. His thought was to train people to worship God while leading praise and worship. Francis' passion for God was crystal clear to me, and his love and talent for music blew me away. I was honored to help serve beside him during our many Worship Nights over the next 3 years at Heritage and elsewhere.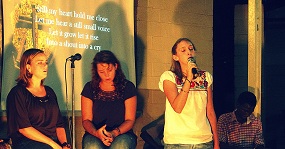 I met so many talented people that Francis was working with and training to more effectively lead worship.
What is also great about this ministry is that Francis was very clear that these worship nights were not for us, but for Christ. He would mentor the people that he worked with and show them the real meaning of worship. While it was fantastic to sing my heart out along with talented musicians, the real joy in Studio_10 is Christ, and inviting others to join us in worshiping our Savior.
Jean
Few experiences to none can compare to a Kiss…a kiss from the one who is true, the ever present comforter and guide, the Holy one of Israel.

Most of us seek for an experience such as this, and on the 25th of May 2014 for those who managed to make to one of STUDIO 10's family visits, will agree that that was indeed Kiss of Heaven.

The privilege we all had in visiting Mr. Kiwanuka's house courtesy of Ibra was as all others have been a unique experience.
From the presence of friends, family, the laughter, the bond of new friendships created and old ones strengthened was all but heavenly.

Treated to a priestly welcome each member of this fellowship was treated as Gods very own representation in the home and for but a brief moment treated as a child in the home.

But Perhaps of all the great experiences on this day none can compare to the worship and word session that blossomed so greatly with a far reaching impact.

Just being there was for me and others like me a constant reminder of God's awesome power, love and grace. From the testimonies shared by Francis one of the foremost worshipers in the fellowship, about the indifference in Gods awesome love ,HIS ability to love each of us regardless of where we may be and what we may be going through and that in spite of everything God still remains loving, faithful ,able and true to HIS word.

To be honest that message spoke to my heart and am sure to many of those hearts present that day.

The worship still in the same theme, alone brought down a presence like I had not felt in a long time and for us to be used in such a manner I believe for me was a great honor and privilege one that if asked to carry again would not hesitate to, because this for me was not just a family visit but an encounter, a touch and truly a Kiss with Heaven.

Asingwire Timothy